Kayak tour at 7.30 Alone in the Benagil Cave
Kayak tour at 7.30 Alone in the Benagil Cave
5+ years old • The most quiet time on the cave • 2 hours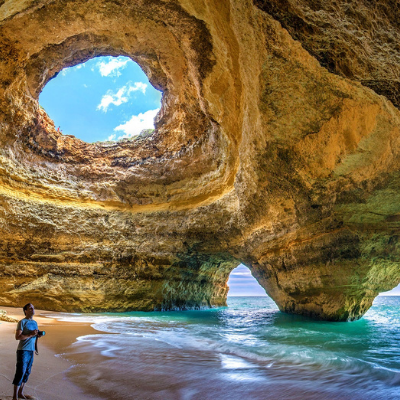 Get inside the beautiful Benagil cave when everyone else is still asleep!
Duration
2 hours
About
Get inside the beautiful Benagil cave! The most famous natural attraction of the golden Algarve coast, the Benagil sea cave is a sight to be seen.
The only way to get in there is by water, and a guided kayak tour is the best choice!
We will get there in the early morning, so we can be one of the firsts there!
Meet your guide at the entrace of Benagil beach. Your kayak tour to the Benagil cave will start at the Benagil beach. You will be accompanied by a lifeguard guide with much experience for your safety.
After a briefing, prepare to get on the kayaks. The kayaks are put and removed from the water by the guides. Then, follow the kayaks from Benagil beach to the famous Marinha beach and its amazing arches.
On the way back we will visit the inside of the famous Benagil cave, where you can explore, take photos and relax.
The visit lasts 2 hours but in reality only paddles for 45 to 60 minutes, making a stop of 30 minutes in the Benagil Cave, always accompanied by an expert guide who will help you whenever necessary.
What can be expected
Go on a fantastic kayaking tour along the Algarve coast
Visit the inside of the Benagil cave and spend time there
See the amazing Marinha beach and its famous arches
What is included
Expert local guides who are also lifeguards
Kayak and paddles
Safety vests
Back rests on the kayaks and bag for the cellphone
What is not included
Object insurance, all personal losses are the sole responsibility of the customer
Transfer
More info
Activity not suitable for people with neck, spine and general health problems. Pregnant women with a gestation of more than 6 months are not allowed, for security reasons. For pregnant women with a gestation of up to 6 months it will be necessary to assess the safety conditions regarding the swell. The later also applies for people with motor difficulties and cardiopulmonary problems.
What to bring
A waterproof bag can be rented for an extra cost (5 euros)
Book now online. For more information send a email to info@algarvetips.nl