Private Surf lessons Albufeira
Private Surf Lesson
Surf Spot Starting at €140 • 2 hours experience! • Ages 7+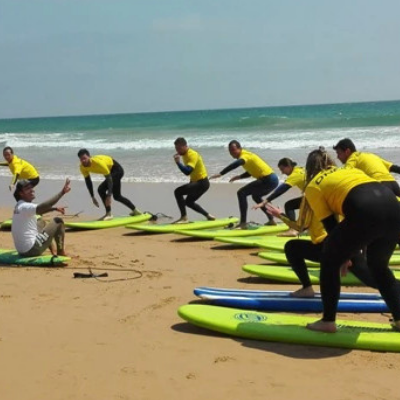 Have a unique and memorable experience!!
Minimum age allowed: 7 years old
Rates
One Person (€140)
Two People People (€210)
Three People (€250)
Four People (€300)
Duration
2 hours experience
About
2 hours private surf lesson in Albufeira (Galé beach), the best spot to learn your first surfing steps.The small and clean waves brakes on a perfect sandy beach.
Includes: All equipment (Surf board + Wetsuit) + insurance + Certeficated instructor
The above values ​​include:
2 hours private surf lesson
All equipment (Surf board + Wetsuit)
Insurance
Certeficated instructor
Pickup and Dropoff (if Booked)
Important
Medium Psycho-physical fitness level required to practice this activity

The check-in must be done at our surf shop located on the Galé beach car parking until 20 minutes before the scheduled start time.

We are not liable for the loss or damage of personal belongings, including cameras or mobile phones, during the activity.

Participation in the activity shall be prohibited to customers who present themselves with inappropriate or offensive clothing and / or under the influence of alcohol or narcotics.

Personal data collected during the booking process are solely and exclusively used for the cliente check-in procedure. Customer data will not be used for any other purpose unless the customer authorizes to use it for Email Marketing purposes.

With the purchase of the ticket to participate in the activity, we are authorized to capture and use the photographs obtained during the activity to which the ticket refers. If you do not authorize the capture and use of photographs and videos with your image, you must express this at the check-in balcony.

The pickups (if booked) will be made at the place and time combined with the customer, and the driver may be a maximum delay of 30 minutes. In case of delay by the customer, the driver will wait for maximum of 2 minutes. When this situation results in the cancellation or impossibility in the participation of the activity, no amount will be refunded

Free car parking available

A safe place to store the costumer's personal belongings available
Wij zijn benieuwd wat jij ervan vond. Laat je het ons weten in de comments hieronder!