Hot spring hike – 3km – Easy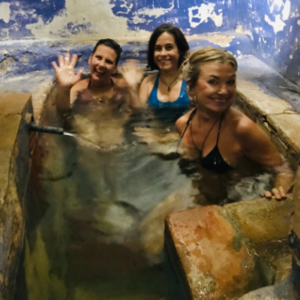 Talking about hidden gems.. this hot spring hike beats everything. Imagine, the most remote area in the hills of  Monchique. It's absolutely stunning over there and extremely peaceful. Not many people know this place exists and it's actually a sacred place.
The hike is only 3km but we take a slow pace, cross the river multiple times, surrounded by trees and with a visit to the ancient hot spring baths. If you want you can even take a dip in the 27 degrees water.
A very quirky place but full of sacred history.
ABOUT THIS HIKE:
– walk into beautiful serene nature
– dirt track with small paths and stunning views
– crossing a river multiple times
– linear route, back and forth is 3km in total
– visit the hidden ancient and sacred hot spring baths
– fun to do with kids!
DISTANCE: 3km
DURATION: 2,5hrs
LEVEL: Easy
MEETING POINT: Roundabout of Portimão (exact location will be shared on google maps)
AVAILABILITY: all year
DAYS FOR MIXED GROUPS: Tuesday and Thursday
PRICES:
MIXED GROUP: (min. 4 adults)
Adults (12+):                      €30/p
Kids (-12y):                        €25/p
PRIVATE GROUP:
Adults: (12+)                      1 or 2p = €120 total
€50/p for each additional participant
Kids: (-12y)                        – €5/kid on total price
INCLUDED:
– professional guidance in English, Dutch, French and German
– insurance
– picture-video compilation
WHAT TO BRING:
– water (1,5L recommended)
– shoes that can be wet or flipflops (because of crossing the river multiple times)
– sunscreen
– towel and swimwear to take a dip in the baths
Book now. Send an e-mail to info@algarvetips.nl